Hotel Concorde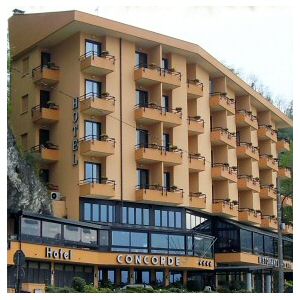 BOOKING FORM - RICHIESTA PRENOTAZIONE
---
Completamente ristrutturato negli anni 90, l' Hotel Concorde è ora l'albergo di punta della località di Arona. La modernità delle attrezzature e la professionalità nel servizio offrono un'ospitalità sincera. Le camere dell' Hotel Concorde si affacciano, per la maggior parte, sul Lago con una privilegiata e nitida vista del Castello medievale di Angera. Dall'altro lato donano sulla irta Rocca di Arona con i resti dell'antica torre. Ogni camera è dotata di ogni comfort, sia per il turista sia per l'uomo d'affari: servizi, balcone, stira-pantaloni, TV a colori con canali via satellite, telefono diretto, cassaforte, aria condizionata con regolazione indipendente e frigobar. Un ristretto numero di Junior Suite ed una particolarmente dedicata ai portatori di handicap completano la ricettività della struttura. E ancora: ufficio di rappresentanza nella hall, terrazza bar e parcheggio privato invitano ad un soggiorno davvero confortevole. L'internazionalità della ristorazione riguarda gli standard ed il servizio. Strettamente legata al territorio e alla creatività è invece l'impostazione del menù. La ristorazione prevede una linea mirata all'attività congressuale: coffee break, colazioni di lavoro a buffet e servite a tavola; cene di gala o di fine meeting sono alcune delle possibilità.
Bar,
Camere,
Zona panoramica,
Parcheggio privato,
Telefono in camera,
Ristorante,
Bagno con doccia,
Tv Color,
Acc.Disabili,
Frigo Bar,
Si accetta Carte di Credito,
---
Dove siamo:

---
Completely restructured in the 90', the Hotel Concorde is now the most important hotel of Arona. The particular location, directly facing the lake, and shortly far from the city center, guarantees the quiet in the moments of relax. Modernity of the equipments and the professionality in the service offer a sincere hospitality. The Hotel Concorde rooms look, for the greater part, at the Lake with a clear sight of the medieval Castle of Angera. From the other side they look at the Rock of Arona with the rests of the ancient tower. Every room is equipped of every comfort, either for the tourist or for the businessman: bath or shower-room, balcony, iron-pants, TV colors with satellite channels, direct telephone, safe, air conditioning with independent regulation and frigobar. A small number of Junior Suite and one particularly dedicated to the handicap bearers complete the receptivity of the structure. And more: office of representation in the hall, terrace bar and private parking invite you to a really comfortable stay. The international kitchen regards the standard and the service. Closely tied to the territory and the creativity it is instead the formulation of the menù. The catering is aimed to the meeting activity: coffee break, buffet and served lunches; suppers of gala or end of meeting are some of the possibilities.
Bar,
Rooms,
Panoramic Area,
Private Parking,
Phone in room,
Restaurant,
Bathroom with shower,
Tv Color,
Acc.Disabili,
Minibar,
Credit Card accept,
---
Where we are:

Hotel Concorde
Via Verbano, 1, Arona, NO, Italy